FAQ
What is a temperature recorder?
This device is normally located in the cab and records a history of temperatures for quality control.
Data from today or a specified day is printed on a till roll.
Print-outs on the right are examples of:
Delivery ticket (current temp only)
Journey ticket with values
Journey ticket with graph
Note: Acrobat's vehicles also monitor door openings which can help to identify delivery times (see markers in left margin).
For full information and operating instructions, download:
TranScan 2 manual pdf file (594kb)
or visit www.transcan.co.uk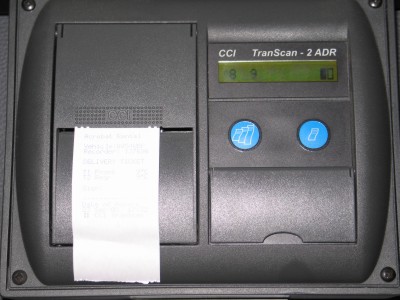 What is a digital tachograph?
A tachograph is a device in the dashboard that records the speed and times that a truck is driven. The Police and Traffic Authorities can use the tachograph to check that a driver has not exceeded his legal working hours. It is a legal requirement that all vehicles over 3.5t are fitted with a tachograph.
Analogue tachographs record the information on paper discs. Since September 2006, all new trucks are required to have a digital tachograph which records on electronic media the size of a credit card. Each driver and Operator must apply to DVLA for a 'smart card' (currently £38 each) by calling: DVLA Helpline 0870 850 1074
Company card application form = D779B
More details are available on the Transport Office website:
Applying for a driver smart card
Applying for a company smart card
We also have a stock of applications available on request
Does the engine have to be running for the fridge to work?
No, all our fridge vans have "electric standby". We supply them with a cable that can be plugged into 13A domestic mains electricity. This is ideal when the van needs to be parked while loaded, overnight or during a catering event.
By contrast, the refrigeration on heavy trucks is usually powered by a separate engine (like a built-in generator) which draws from the main diesel tank. In a static position, a full tank may last 4 or more days before a refill is required. Alternatively, they can be run on electric but require a 32A 3-phase industrial supply.
Payload and gross weight, what's the difference?
A goods vehicle is legally limited to a gross weight, the total weight allowed on the wheels. The amount of weight that a vehicle can carry (its payload) is therefore the gross weight LESS the unladen weight of the vehicle. This is why a 3.5t box van with a larger loadspace actually carries less weight than a 3.5t MWB or LWB panel van equivalent.
Acrobat refers to all vehicles on its fleet by their gross weight.
What size vehicle can I drive?
All drivers who have passed a motor car driving test are entitled to drive a van up to 3.5t gross.
Drivers who passed their test before 01/01/1997 can drive a vehicle up to 7.5t gross. However, an Operators Licence is also required for any vehicle over 3.5t gross and therefore most Hirers are restricted to this level.
For full details of entitlement, vehicle categories and minimum ages, visit:
What is an Operators Licence?
Not to be confused with a driving licence, this is a separate licence that must be held by any company using a vehicle over 3.5t gross in the course of its business. This is regardless of whether the organisation owns the vehicle and applies even if it is only hiring a vehicle for one day.
It can take months to obtain a new Operators Licence with a large amount of paperwork and strict criteria to satisfy. Applicants also have to demonstrate sufficient funding and a suitable location from which to run heavy trucks.
Hirers must supply a copy their Operators Licence before booking a vehicle over 3.5t from Acrobat. The only exception is if the vehicle is being used as a static coldroom and not being moved during the hire.
For further details including Traffic Area offices, download the following:
Operators Licence Guide pdf file (31 kb)
If you must use a Large Goods Vehicle but do not have an Operators Licence, we recommend you contact:
Mark Pelling
Marshall Transport
01420-511289
07831-431509
email: Marshall Transport
Note: their pricing will include driver and fuel but not waiting time (if the vehicle is to remain on site)
Do I have to use your insurance cover?
No. However, we require proof that our vehicle is comprehensively insured and you would be liable to pay loss of use charges during any subsequent damage repairs. See Section 6 CONTINUATION OF HIRE in our Terms and Conditions.
Anyone wishing to be covered on Acrobat's insurance policy must be between 21 and 70 years old and have no major endorsements or disqualifications. Each driver must complete an insurance proposal form and provide a copy of their driving licence. Vehicles on Acrobat's cover are subject to a £500 excess in the event of damage and must be paid by the Hirer on demand.
Can I take an Acrobat vehicle abroad?
Yes, provided you have our written authorisation. An additional charge of £238+VAT per week will be levied. This charge is for the additional breakdown cover and provision of a 'continental kit' comprising fuse and bulb packs, first aid kit, fire extinguisher and warning triangle.
Stringent service procedures and regular testing ensure that our fleet is ideal for long distance travel.
What is an ATP Certificate?
This is the international standard for the refrigerated transport of perishable produce. Fridge vehicles are tested within two main categories:
FRA for chilled applications to 0C and

FRC for frozen to -20C
Currently, vehicles travelling within the UK are not legally required to have ATP but vehicles crossing European borders without ATP may be heavily fined or forced to transfer their load. Most of Acrobat's vehicles have ATP FRC certificates.
Vehicles carrying food through Europe should carry an ATP certificate. Pharmaceutical product does not require ATP.
Download full details in a pdf file by clicking:
or visit www.crtech.co.uk